Thousands of people rely on the GROWTH FACTOR to get things done and grow an awesome business.

Accomplish more everyday
Scroll Down

Here's a question for you - it's the same question millions of business owners ask everyday - around the world...

HOW DO I GROW A PROFITABLE BUSINESS?
Scroll Down

It's called MX THE GROWTH FACTOR ™ …and it's exclusive to your Consultant

At last, a no-nonsense answer
Scroll Down

The Growth Factor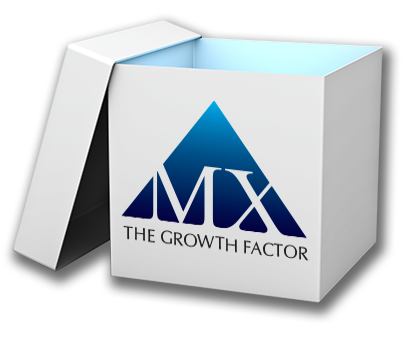 …and it's exclusive to your consultant
The Growth Factor is an enterprising source of ideas, inspiration and common sense, all based on the unparalleled experience, know-how, and expertise of Trevor Marchant and Eve Dallas.
Trevor and Eve have trained, helped and coached over 5000 business owners across 40 different industries, vocations and professions – including 70 accounting firms.
All these businesses have 're – thought' their business growth and have transformed their businesses into profitable growth machines.
Our Work
All these businesses have 're – thought' their business growth and have transformed their businesses into profitable growth machines.
The landscaper
There's the landscaper who has doubled her turnover
...

Car rental business
The Car rental business that has gone from 1 car to 30 in 18 months
The Butcher
The butcher who now has three shops after struggling to make one work
Agri-Business
The Agri-Business supplier who has just won every award imaginable
The Radio Station
The Radio Station who is on target for extra $K200 – just by changing the length of their ads
The Builder
The builder who is now doing in a week what they used to do in a month
The Vet
The Vet who is now one of the leading vets and 'thought leaders' in her state
And – tons more
if you have the time and want to know more
...

It all comes down to this:
THE 5 THINGS YOU MUST KNOW ABOUT GROWING A PROFITABLE BUSINESS
Foundation
How to build a strategic foundation that creates a game-changing, winning culture and puts 'daylight' between you and your nearest rival.
A foundation that includes:
Your Passion, Your Purpose and your Profits
Your Vision for your awesome business
Your Values and Core Behaviours – to embed the culture – a culture that beats 'strategy' every day of the week.
Your Point of Difference – so no more 'me too' products and services
Your Ideal client …you know the ones that are happy to pay and spread the word…
Your Key Marketing message- to attract a consistent flow of people wanting to do business with you and convert your message into money
Your Optimum Selling strategy – how to double your client to prospect ratio
Mastering
Mastering the keys to 'better than the rest' business growth
Marketing
Selling
Delivering and
Servicing
Management
The careful yet bold management of the 'sexy' little numbers in every business – whether you own BHP or Fred's Chicken Shop.
Your client retention rate- how to hang on to what you've got
Your lead generation numbers- more people ready to do business with you
Your sales conversion rate- more people buying from you
Your average dollar transaction- more people spending more with you
Your repeat business- more people spending more with you – more often
Your Cost of Goods Sold – prudent management and
Your General Expenses. Where are the 'savings,' the hidden assets and hidden income streams in your business?
Team
The recruiting, coaching and development of your winning team. A team of hard- working, dependable, customer-oriented people who have a strong desire for your success, their success and your client's success.
This is about your leadership and finding the 'edge' to take you from 'good to great.'
This is about finding your 'springboard' to the next level.
Action
Taking action. Your innovation master plan.
The Growth factor's unique innovation formula helps you stay focused on what is important and gives you a methodical roadmap where lean, simple and fast reign supreme.
Where to from here?
THE NEXT STEP
Well that's easy…
Just claim your free copy of our MX WAYS REPORT by filling the form below – and one of our team members will contact you for an obligation free chat.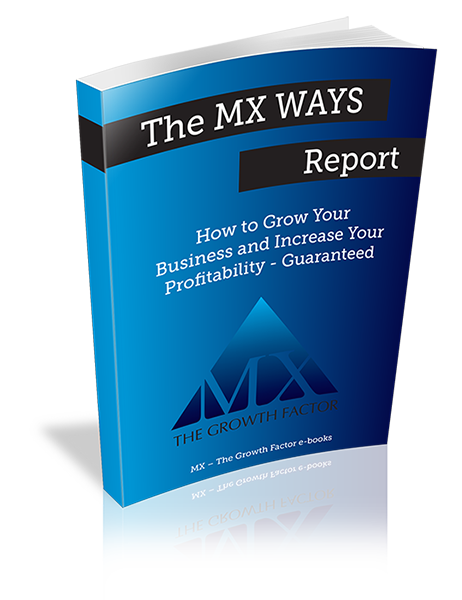 Twenty years from now you will be more disappointed by the things you didn't do than by the ones you did do. So throw off the bowlines. Sail away from the safe harbor. Catch the trade winds in your sails.
Mark Twain
where to from here
Just one final thought
Before you claim your MX WAYS REPORT and a chat with one of our team, it is important to know that this is an innovative and (fast becoming) an indispensable way to grow your business and your profits.
The Growth Factor method is only for people who are serious about setting up their business for long term success and who want to create a lifestyle where their business 'gives them a life and doesn't consume it.'
Nothing happens until we do something. This is about 'starting' to do something.
The Growth factor will show you the way and will show you how and to get the results you want – the results many other business owners have already achieved.
However, it will take your commitment and dedication to make it happen. If you're not ready for that then perhaps you should leave this until a time when you are ready to 'spring to the next level.'